Thanks for supporting WWOZ! As a WWOZ member, you are part of our family of Guardians of the Groove, keeping New Orleans music going strong on WWOZ's airwaves 365 days a year!
A couple of notes:
--The gifts pictured below are for new members beginning in September 2022.
--Krewe of Roux member gifts won't be shipped until 5 monthly payments have been received.
--We're sorry that we won't be issuing a compilation CD this year.
If you'd like to make a donation by phone, please call 877-907-6999. Or mail us a check payable to WWOZ: PO BOX 51840, New Orleans, LA 70151
Make a one time or monthly donation: click here to support WWOZ.
Membership Levels and Gifts
Treehouse Level: $1,000 one time or $84/month
Wireless Headphones / WWOZ Flag / Ball Cap / and Tee Shirt combo
OR
Wireless Headphones / WWOZ Flag / and Brass Band Hat combo
Either way, you'll be a be a sponsor for all 7 days of our Jazz Fest Live Broadcast!
NOLA Flag Bearer Level:$504 one time or $42/month
Brass Band Hat / Blue Tooth Speaker combo
Bass Drum Level : $360 one time or $30/month
Umbrella/WWOZ Flag combo
OR
Umbrella/Water Bottle combo
Snare Drum Level: $240 one time or $20/month
Pullover/WWOZ Flag combo
OR
Pullover/Water Bottle combo
Tuba Level: $150 one time or $12.50/month
T-shirt and Baseball Cap combo
Trombone Level: $120 one time or $10/month
WWOZ Flag
Saxophone Level: $100 one time or $8/month
WWOZ T-shirt
$90.70 Level: $90.70 one time only
Beach Towel
Trumpet Level: $70 one time or $6/month
WWOZ Ball Cap
All Members:
Discount Card & Bumper Sticker
---
WWOZ Logo Baseball Cap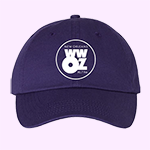 Purple cap with the WWOZ logo centered on the front and Guardian of the Groove centered on the back. Classic dad's cap made of 100% bio washed chino twill. It's unstructured with 6 panels, a low profile, pre-curved visor, and tri glide buckle closure.
---
Beach Towel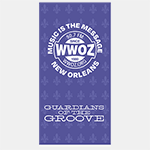 Be ready for a day of festing or a day at the beach with this beautiful purple microfiber beach blanket/towel, 30" x 60". It features our retro "Music Is the Message" logo over a field of fleurs-de-lis.
---
WWOZ Logo Tee Shirt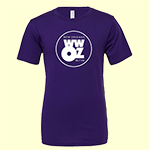 Port & Company® Core Blend Tee: comfortable, soft and durable. 5.5 ounce, 50/50 cotton/poly, made with up to 5% recycled polyester from plastic bottles. 1x1 rib knit collar. Purple, with WWOZ logo in white on the front and Guardians of the Groove in white on the back.
---
WWOZ Flag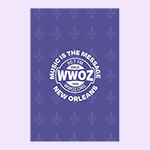 A high quality and durable fabric print flag. It's double sided and features our retro "Music Is the Message" logo over a field of purple fleurs-de-lis. The flag dimensions are 2ft X 3ft, with grommets on top.
---
WWOZ Headphones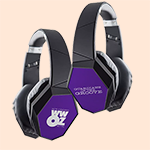 Wireless headphones, with omni-directional bass, an advanced microphone & 85% noise cancellation capabilities that deliver high definition stereo sound. Also with: fold-and-go design, 33 ft Range, Multi function on-ear Buttons, & 10+ hours of playtime, soft carry bag, 3.5mm aux headphone jack cord, micro USB Cable.
---
Long Sleeve Pullover
A smartly fashioned purple sport pullover with the WWOZ logo embroidered in white. 94% polyester/6% spandex, 4 3/4 Oz. heather jersey with sanded finish. Available is size Small - 5XL.
---
Water Bottle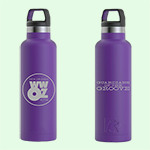 20oz stainless steel water bottle with double walls and vacuum insulated to keeps drinks cold or hot longer. Purple and laser engraved with the WWOZ logo in white. Easy to clean. One of the highest quality bottles on the market.
---
Umbrella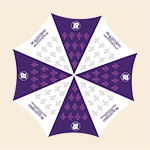 62″ arc, domestic golf umbrella with fiberglass shaft. It is yellow, purple, white and blue with the alternating Guardian of the Groove and WWOZ logo on the panels. There are musical notes at the top of the umbrella.
---
Blue Tooth Speaker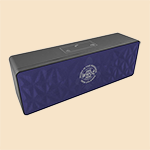 A silicon Bluetooth speaker with our retro "Music Is the Message" logo. It works up to 25 feet away from your connected device, with a sleek, simple design that makes it great for any space. 6.875" L x 1.75" H x 2.5" W
---
WWOZ Brass Band Hat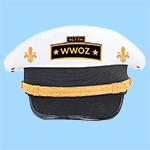 Hit the streets in style with this brass band hat, with woven WWOZ label in the center and Fleurs de Lis embroidery on two sides.
---
All Members Get...
Discount Card & Bumper Sticker
For all donations $40 and up. Get great deals from local businesses.