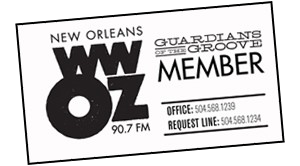 Every WWOZ member receives an official Guardian of the Groove card, good for discounts at our community business partners. By becoming an 'OZ member, you'll save money on books, music, lodging, restaurants, gifts, and much more — it's our way of saying thank you for supporting the music of New Orleans!
Discounts may not be combined with sale items and closeouts. Limit one discount per member. You must show your card at time of payment.
Apparel | Dining | Gifts | Health & Beauty | Lodging | Music, Books & Entertainment
Apparel
Defend New Orleans
10% off (in-store)
1101 First St.
504-941-7010
www.defendneworleans.com
Dirty Coast
10% discount
5631 Magazine St.
713 Royal St.
(504) 324-3745
www.DirtyCoast.com
Feet First
10% discount off any one new item. Not valid with any other offer.
4122 Magazine St.
(504) 899-6800
www.feetfirststores.com
 
---
Dining
Buffa's
10% off any purchase
1001 Esplanade Ave.
(504) 949-0038
www.buffasbar.com
Café Degas
Buy one (1) entree or appetizer and get one (1) free; up to $12 value
Limit three offers per party; not good with any other offers
3127 Esplanade Ave.
(504) 945-5635
www.cafedegas.com

Le Bon Temps Roulé
10% off after 8p
4801 Magazine St.
(504) 897-3448

The Napoleon House Bar & Café
10% off food and beverages
500 Chartres St.
(504) 524-9752
www.napoleonhouse.com

Slim Goodies Diner
10% off all food and apparel
3322 Magazine St.
(504) 891-EGGS
---
Gifts
David Art
10% off custom framing and art supplies
3020 N. Arnoult Rd.
Metairie, LA
(504) 888-3630
www.davidartcenter.com
Fleurty Girl
10% Discount
3137 Magazine St.
632 St. Peter St.
617 Chartres St.
3313 Severn Ave.,  Metairie
923 Metairie Rd, Metairie

Head to Toe
10% discount
816 Decatur St.
(504) 528-9000
www.headtotoeno.com
Louisiana Loom Works
15% discount off rag rugs
616 Chartres St.
(504) 566-7788
www.customragrugs.com
Martin's Nursery & Landscape Co.
20% discount on all plants
320 Third St.
Luling, LA
(985) 785-6165
www.martinsluling.com

New Orleans Museum of Art
10% discount in Museum Shop
City Park
1 Collins Diboll Circle
(504) 488-2631
www.noma.org

Papier Plume
10% discount
842 Royal St.
(504) 988-7265
www.papierplume.com

Petcetera NOLA
10% off, excludes artwork and services 
3205 Magazine St.
(504) 269-8711
petceteranola.com

Villere's Florist
20% discount on in-store cash and carry items
750 Martin Behrman, Metairie (504) 835-8565
1415 North Hwy. 190, Covington (985) 809-9101
1-800-845-5373
www.villeresflorist.com

WhatsNew
15% discount
824 Decatur St.
(504) 586-2095
---
Health & Beauty
A Cure for the Blues Massage Therapy
$10 discount on a one-hour massage
8025 St. Charles Ave.
(504) 919-1683
www.acurefortheblues.com
Downtown Fitness Center
Waiver of joining fees at both locations
333 Canal St., 3rd floor, and
New Orleans Healing Center, 2372 St Claude
www.downtownfitnesscenter.com
The Gallery Salon & Spa
15% discount
6312 Argonne Blvd
(504)482-2219
www.TheGalleryNola.com
NOLA Aikido
20% off of new student special package for adult classes only (includes 2 months of practice plus a uniform)
3909 Bienville, Suite 103
www.nolaaikido.com
NOLA Massage
5207 Magazine St
(504) 777-4030
nola.massagetherapy.com
10% on all in-studio services, 10% on products
---
Lodging
Elysian Fields Inn
15% off accommodations, subject to availability
930 Elysian Fields Ave.
(504) 948-9420
www.elysianfieldsinn.com
---
Music, Books, Entertainment
Euclid Records
10% discount
3301 Chartres St.
(504) 947-4348
www.euclidnola.com
Louisiana Music Factory
10% discount
421 Frenchmen St.
(504) 586-1094
www.louisianamusicfactory.com
Ogden Museum of Southern Art
Two (2) for One (1) general admission
Discount cannot be used in conjunction with other Ogden promotions
925 Camp St.
(504) 539-9600
www.ogdenmuseum.org
---
Consulting Services
Follow the Hummingbird Consulting, PBC
Free One Hour Zoom Consultation
900 Camp Street, Suite 4C5
www.FollowtheHummingbird.co