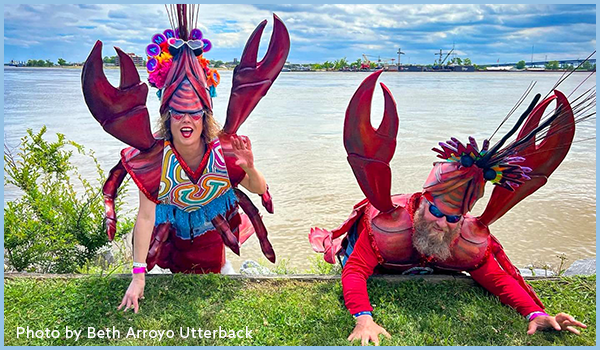 In the NOVEMBER 2023 Issue of the 'OZone,
WWOZ's monthly newsletter:
"We're Moving" Second Line & You're Invited | Support WWOZ on Giving Tuesday, November 28 | Final Live Set from the French Market | Birthday! WWOZ Turns 43 on December 4 | Jazz & Heritage Concert Series | Second Line Season Rolls On | Thanksgiving Recipes | Quick Links
More 'OZ: Facebook | Twitter | Instagram | YouTube | Listen Live | Support 'OZ
---
James Andrews.
Photo by Louis Crispino

Calling all Guardians of the Groove! Join us along the route as WWOZ second lines from our home of the last 18 years in the French Market Building (1008 N. Peters St.) to our new home at Jax Brewery (600 Decatur St.) on Tuesday, November 28 starting at 10:30am! The second line will be led by legendary New Orleans musicians including James Andrews & the Crescent City All-Stars, the Treme Brass Band, Cyril Neville, John Boutte, Kermit Ruffins, Amanda Shaw, Charmaine Neville, Little Freddie King, Bruce "Sunpie" Barnes, Shamarr Allen, and more.
---
| | |
| --- | --- |
| | Moving, in addition to being occasion for a second line, is expensive! So if WWOZ is an enriching presence in your life, please consider donating on #GivingTuesday, November 28. WWOZ remains New Orleans' community radio station and we are proud to serve our worldwide audience. Our sincere thanks for your support in this time of transition. |
---
Second lining at 'OZ!
Photo by Ryan Hodgson-Rigsbee

We marked the end of an era here at our WWOZ French Market Building location on November 1. The Treme Brass Band wrapped it up with the final live set in our performance studio, but they didn't stay there--this party hit the broadcast studio, office, and even the hallway outside! Check out the full video below, plus photo highlights, at the link below. In the meantime, we're packing up, and we'll move to Jax Brewery in phases throughout November. Stay tuned because even though we're moving the studio, there'll be no interruption in the music!
---
| | |
| --- | --- |
| Photo by Ryan Hodgson-Rigsbee | Since WWOZ first went on the air on December 4, 1980, listener support has been a foundation of our ability to preserve New Orleans musical history and cultural heritage. Help us keep the sweet grooves flowing for another 43 years: make your tax deductible gift and join the Guardians of the Groove today! It allows us to bring you not only great radio, but live video streams, the two-week on-demand archive, the Livewire music calendar and your other favorite WWOZ programming. |
---

---
Haruka Kikuchi at the WWOZ Groove Gala.
Photo by Ryan Hodgson-Rigsbee

This fall's Jazz & Heritage Concert Series wraps up this weekend with Charlie Halloran & the Tropicales on Friday, November 17 and Wendell Brunious on Saturday, November 18. And, the Foundation is excited to present A Very Vappie Holiday featuring Don Vappie on Friday, December 8. All shows happen at the George and Joyce Wein Jazz & Heritage Center. Tickets are $10 and you can get them here. If you can't attend in person, the shows will be live streamed on our Facebook page and the Foundation's YouTube channel. If you missed the earlier shows in the Concert Series, which included Thais Clark, Haruka Kikuchi, Leon "Kid Chocolate" Brown, and Leroy Jones, see them on our Facebook page and the Foundation's YouTube channel.

» Video: WWOZ Facebook or Foundation YouTube
---
Last month's Original 4 second line.
Photo by MJ Mastrogiovanni

Coming soon to the streets of New Orleans: the Nine Times Second Line this Sunday, November 19, and Men & Lady Buckjumpers on November 26. Get the full schedule of upcoming events, the route sheets & more from Takin' It to the Streets, WWOZ's multi-platform program celebrating New Orleans' social aid & pleasure clubs, second lines, Black Masking Indians, Baby Dolls, and brass band traditions. While you're there, check out our list of 13 weekly Brass Band events.
---
| | |
| --- | --- |
| | For your dining pleasure, here's a menu's worth of Thanksgiving recipe ideas. Many of them, while traditional, are just a little bit different, like Kermit Ruffins' Barbecue Smoked Turkey, Cranberry-Jalapeño-Lime Salsa, Day-After-Thanksgiving Turkey & Sausage Gumbo, and Pumpkin Chiffon Pie. |
---

Air time:
Wednesday, March 23, 2022 - 8:45am