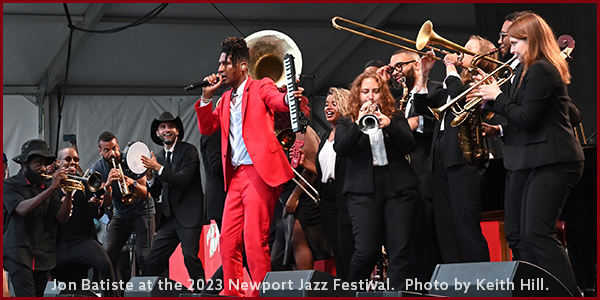 In the SEPTEMBER 2023 Issue of the 'OZone,
WWOZ's monthly newsletter:
Fall Membership Drive Happens September 21-29 | Festing in Place Returns, October 5-8 | Groove Gala Photos | Crescent City Blues & BBQ Festival, October 13-15 | Fiesta Latina, September 22 & 23 | October Is New Orleans Music Month, NOLAxNOLA & More | Volunteer Profile: Michael Mastrogiovanni | Recipe: Mushroom Campanelle | Quick Links
More 'OZ: Facebook | Twitter | Instagram | YouTube | Listen Live | Support 'OZ
---
| | |
| --- | --- |
| So groovy! | In order to sustain the worldwide flow of New Orleans groove, WWOZ needs your support! Please join during our Guardians of the Groove Fall Membership Drive, which happens September 21-29. We've got a whole new set of member gifts, featuring vibrant tie-dye designs. So power up the device of your choice, tune in, and help us Guard the Groove. |
---
| | |
| --- | --- |
| Festing on the Beach | Tune in October 5-8 for our annual celebration of live music from New Orleans and the world beyond! Once again, we're partnering with the Archive of the New Orleans Jazz & Heritage Foundation to share the greatest music from Heaven & Earth, including recent and historical recordings from the Neville Brothers, Dr John, Irma Thomas, Allen Toussaint, Professor Longhair, Walter Wolfman Washington, Tuba Skinny, Germaine Bazzle, Amanda Shaw, Aaron Neville, Lost Bayou Ramblers, John Boutte, Cowboy Mouth and lots, lots more! Break out your festival gear, and get ready to celebrate the best of New Orleans music--anywhere in the world! |
---
Soul Sister spinning.
Photo by Ryan Hodgson-Rigsbee

The WWOZ Groove Gala returned to Tableau and Le Petit Theatre on Friday, September 1! It was an amazing night in the Quarter and a smashing success for WWOZ. Thank you so much to everyone who came out to support us! This year's Groove Gala performers included Irma Thomas, Bruce "Sunpie" Barnes, Doreen Ketchens, John "Papa" Gros, Haruka Kikuchi, Treme Brass Band, and Soul Power Live with Soul Sister.
---
Samantha Fish plays on 10/14.
Photo by Michele Goldfarb

This year's Crescent City Blues & BBQ Festival, happens October 13-15 in Lafayette Square and continues New Orleans' historic role in making the blues and R&B among the most influential sounds in the world. The lineup features Samantha Fish, Shemekia Copeland, Cedric Burnside, Tab Benoit, Lurrie Bell, Little Freddie King, and many more. We're planning to broadcast and live video stream the event; see wwoz.org for updates once we're closer to the date.
---

---
Rumba Buena plays 9/23.
Photo by Demian Roberts

The New Orleans Jazz & Heritage Foundation presents Fiesta Latina on September 22 & 23, a two-day celebration of Indigenous, Spanish, Mexican, Caribbean and Central and South American cultures in New Orleans. Fiesta Latina features live musical performances, dance demonstrations, and delicious food outside of the George and Joyce Wein Jazz & Heritage Center, 1225 N. Rampart Street. Hit the link below for tickets and more info. WWOZ will be there to live video stream from each performance of the festival. Watch at wwoz.org/livevideo or on our Facebook page!
---
Ivan Neville plays Funk Fest during NO Music Month.
Photo by Leon Morris

October is New Orleans Music Month, a city-wide celebration of New Orleans' vibrant music ecosystem--and WWOZ is part of it. It includes NOLAxNOLA from September 28-October 8, with hundreds of great live performances at venues all over town. Also check out NOLA MUSICON from October 24-27, a convention all about the music industry in New Orleans. For more information, go to neworleans.com/musicmonth, and stay tuned to WWOZ for interviews, news, and more.
---
| | |
| --- | --- |
| Michael Mastrogiovanni. | Before moving to New Orleans 9 years ago, WWOZ Volunteer Photographer Michael Mastrogiovanni listened to the station every day online. Having a window into the local culture helped him hit the ground running and become immersed once he arrived. "The music featured on 'OZ and certainly the city itself have been huge sources of inspiration for my photography and living here has led me to other artistic pursuits that I could never have imagined...." His artistic pursuits are much appreciated, and not just by us! At the 2022 Press Club of New Orleans' Excellence in Journalism Awards, one of Michael's photos from the Young Men Olympian second line won the Hal Ledet Still Photography Award. Michael's siblings, Lauren and Johnny, are also a part of the WWOZ family and will be profiled in this space in coming months. |
---
| | |
| --- | --- |
| | This month's recipe is for Mushroom Campanelle, a version of mushroom ragu, which comes to us from Osteria Lupo in Uptown New Orleans. It's vegetarian, and made with fresh pasta and a variety of fresh mushrooms. |
---

Air time:
Wednesday, March 23, 2022 - 8:45am