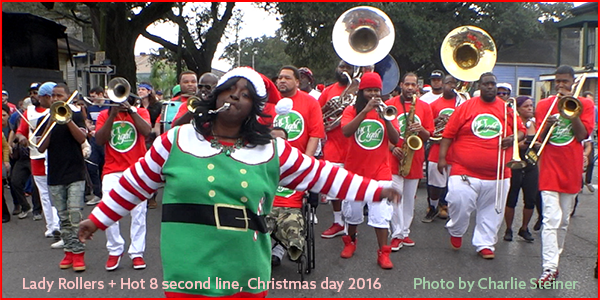 In the DECEMBER 2022 Issue of the 'OZone,
WWOZ's monthly newsletter:
End of Year Giving | Upcoming Live Music on WWOZ | Doreen's Jazz at the Jazz & Heritage Center | Twelfth Night: Friday, January 6 | Volunteer Profile: Father Ron Clingenpeel | Recipe: Banana Pudding | Quick Links
More 'OZ: Facebook | Twitter | Instagram | YouTube | Listen Live | Support 'OZ
---
| | |
| --- | --- |
| Happy holiday season! | Please keep a place for WWOZ on your holiday gift list! For over four decades, your support has enabled our mission to preserve New Orleans musical history and cultural heritage. With the 2022 tax season ending soon, please consider making a tax-deductible donation to WWOZ today. Your support allows us to bring you not only great radio, but live broadcasts & video streams, the two-week on-demand archive, the Livewire music calendar, Takin' It to the Streets, and all your other favorite WWOZ programming. Help us keep guarding the groove! |
---
Irma Thomas.
Photo by Michael White

It's been a busy December on our airwaves, with live performances by Irma Thomas, Little Freddie King, Vasti Jackson, Johnny Sansone and more! And coming up this month, we've got Josh Paxton paying a birthday tribute to James Booker at 11 am on Saturday December 17, and an all-star piano professor tribute to Professor Longhair at 12 noon on Monday December 21! You do not want to miss these sets. Plus a couple more very big names will be announced in the coming days--there's lots more live music coming in December!
---
Doreen Ketchens.
Photo by Ryan Hodgson-Rigsbee

The New Orleans Jazz & Heritage Foundation presents clarinetist extraordinaire Doreen Ketchens in concert on Friday, December 16 at 8pm at the George and Joyce Wein Jazz & Heritage Center. Tickets are $10, and all proceeds support the New Orleans Jazz & Heritage Foundation. WWOZ will be live streaming video on our Facebook page and at wwoz.org/livevideo.
---

---
Krewe de Jeanne d'Arc.
Photo by Stafford

Carnival season gets rolling with Friday evening Twelfth Night events, including walking parades in the French Quarter (Krewe de Jeanne d'Arc followed by Société Des Champs Elysée) and Saint Charles streetcar rides (Phunny Phorty Phellows and the Funky Uptown Krewe). Mardi Gras is February 21, so that means six-and-a-half weeks of king cake season!
---
Father Ron on the mic.
Photo by Ryan Hodgson-Rigsbee

In his own words: "I started as a WWOZ volunteer 11 years ago, because I wanted to support this wonderful community, to be a part of it – musicians, artists, on air hosts, and the great people behind the scenes. I didn't start to be an on-air host, but was invited into that later and am loving digging through the musical history and culture which feeds my spirit. I have not given up other volunteering, though, because we still need to support the very essence of the station's ministry to New Orleans. The wider community of OZilians has encouraged me every step of the way. This feeds my spirit and my soul, and without it, other parts of my life might not be as good. I have made great friends here, learned so much, and been given the great gift of community." Thanks, Father Ron!
---
| | |
| --- | --- |
| | No introduction needed for this classic of Southern cooking, always popular at all kinds of family gatherings, holidays & otherwise. We have two versions here, one old-school, the other super easy. |
---

Air time:
Wednesday, March 23, 2022 - 8:45am