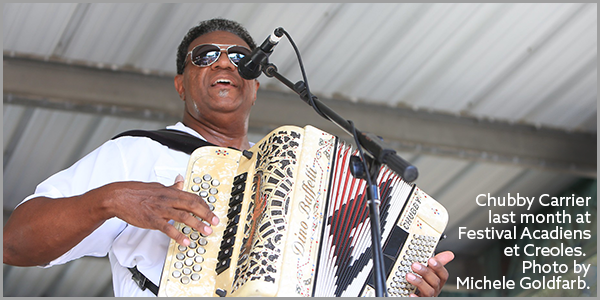 In the NOVEMBER 2022 Issue of the 'OZone,
WWOZ's monthly newsletter:
Birthday! WWOZ Turns 42 on December 4 | Livewire Music Calendar | Support WWOZ on Giving Tuesday, November 29 | Takin' It to the Streets: Sunday Second Lines | Volunteer Profile: Dave Dauterive | Recipe: Cranberry-Jalapeno-Lime Salsa | Quick Links
More 'OZ: Facebook | Twitter | Instagram | YouTube | Listen Live | Support 'OZ
---
Happy Birthday to us!
Photo by Catherine King

WWOZ first went on the air on December 4, 1980, and for the past 42 years, your support has helped us preserve New Orleans musical history and cultural heritage, a fact we celebrate during each and every show all year long. Help us keep the grooves flowing for another 42 years: make your tax deductible gift and join the Guardians of the Groove today! It allows us to bring you not only great radio, but live video streams, the two-week on-demand archive, the Livewire music calendar and your other favorite WWOZ programming.
---
Mia Borders.
Photo by Demian Roberts

Let the Livewire Music Calendar help with all your tuneful entertainment needs. We air highlights of the calendar at the top of odd-numbered hours, but you can always access the Livewire Music Calendar in its glorious entirety by visiting wwoz.org/livewire. For example, among this Saturday night's 100+ shows at dozens and dozens venues: Mia Borders at Three Muses, Tuba Skinny at d.b.a., Russell Batiste & Friends at Le Bon Temps Roulé, the Gerald French Trio at the Mahogany Jazz Hall, and tons more.
---
| | |
| --- | --- |
| 11/29 = Giving Tuesday. | If WWOZ is an enriching presence in your life, please consider donating on #GivingTuesday, November 29. Whether it's Mardi Gras and Jazz Fest or pandemics and hurricanes, WWOZ is here with the sounds of New Orleans, 24/7. WWOZ remains New Orleans' community radio station and we are proud to serve our worldwide audience. We know that from the many calls and comments of support we get through the year that, for many of you, your heart is with WWOZ. Thanks for your support! |
---

---
9 Times.
Photo by Ryan Hodgson-Rigsbee

Happening this Sunday, November 20: the Nine Times Second Line Parade. Get route sheets, interviews with community leaders and lots more from Takin' It to the Streets, WWOZ's multi-platform program celebrating New Orleans' social aid & pleasure clubs, second lines, Black Masking Indians, Baby Dolls, and brass band traditions.
---
Dave Dauterive in the studio.
Photo by Michele Goldfarb

New Orleans native Dave Dauterive enjoys taking a break from his chemical engineering gig to program our Friday morning jazz show, which airs from 6-9am. "The Friday Morning Set is all about getting the weekend started right and connecting to you the listener," says Dave. "It's upbeat, very rhythm focused, and we spotlight the best players past and present." Dave adds, "The musical connection to New Orleans... the focus on music, and the overall WWOZ community is a comfort zone to me with our common interests." Dave's been a WWOZ volunteer since 2001, save for a brief stint in Houston after Hurricane Katrina. It's great to have him back in New Orleans and at WWOZ where his knowledge of the music and the culture makes the start of every Friday very special. Thanks for all you do for your community radio station, Dave!
---
| | |
| --- | --- |
| | This dish is a fresh take on traditional holiday cranberries. It's a grown-up upgrade from the can of jellied stuff (which some of us still love, regardless). As with most salsa-type recipes, you don't need to be too fussy about the exact quantities of the ingredients, so adjust the amount of salt, sugar and jalapeno to suit your tastes. |
---

Air time:
Wednesday, March 23, 2022 - 8:45am