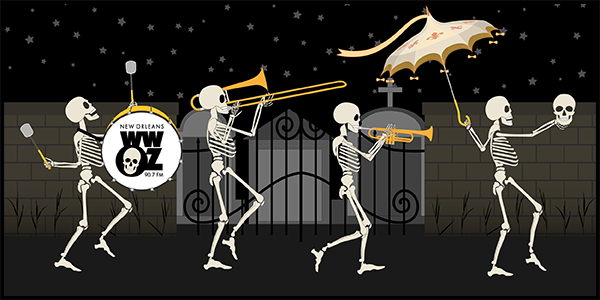 In the OCTOBER 2022 Issue of the 'OZone,
WWOZ's monthly newsletter:
Crescent City Blues & BBQ Festival Broadcast & Video Stream | Online Auction Coming in November | Wrap Up: Festing in Place, Fall 2022 | New Orleans Film Festival, Nov 3-13 | In Memoriam: Noelani Musicaro | Recipe: Carrot Ginger Coconut Shrimp Soup | Quick Links
More 'OZ: Facebook | Twitter | Instagram | YouTube | Listen Live | Support 'OZ
---
Little Freddie King in 2018.
Photo by Michele Goldfarb

The 15th annual Crescent City Blues & BBQ Festival, presented by the New Orleans Jazz & Heritage Foundation, happens this weekend, October 14-16 in beautiful Lafayette Square. Performers include Charlie Musselwhite, Ruthie Foster, Walter Wolfman Washington, Little Freddie King, Mia Borders, Johnny Sansone, Mr. Sipp and lots more. Not to mention all that amazing food! We'll be broadcasting and live video streaming every minute of the fest, with two sets Friday evening from 5:30-8:30 then Saturday and Sunday from 11:30-8:30.
---
| | |
| --- | --- |
| Your chance to get on the mic! | Coming next month: your chance to bid on WWOZ experiences, like hosting a show with our music director, Murf Reeves, or being our on-air Livewire reader for a day. The perfect gifts for you or the Guardian of the Groove in your life! WWOZ is, and always has been, listener-supported community radio, and your bid benefits the station that brings you the sounds of New Orleans. |
---
Allen Toussaint.
Photo by Leon Morris

We hope you enjoyed our recent Festing in Place event, which we produced with the Archive of the New Orleans Jazz & Heritage Foundation. From September 29 through October 2, we aired 60 archival Jazz Fest sets from the likes of Allen Toussaint and the Neville Brothers (among lots of others!), and also sets from festivals in Newport, RI and Telluride, CO. You can still catch what you missed in our Two Week Archive, but sets begin expiring on Thursday, October 13.
---

---
Raymond Anthony Myles.
Still from video

Recently voted "one of the 25 coolest film festivals in the world," the New Orleans Film Festival returns next month. The music-related films include a treat for gospel lovers, A Taste of Heaven: The Ecstatic Song & Gospel of Maestro Raymond Anthony Myles, and a number of other titles, like "Friday I'm In Love," "Roots of Fire," "This is National Wake," and "Street Punx."
---
Noelani at Piano Night.
Photo by Eli Mergel

It's with great sadness that we report the passing of WWOZ volunteer Noelani Musicaro on October 4. She was at home surrounded by her children, and her transition was very peaceful. Noelani, a WWOZ volunteer for eight years, was a familiar sight at our Jazz Fest hospitality tent and at events like Piano Night. She always had a warm and friendly smile and was truly an exemplar of kindness and positivity. She volunteered with many New Orleans organizations, including local FM station WHIV, where she had her own talk program. Noelani was much-loved and a true Guardian of the Groove, as evidenced by the second line in her honor, which happened on October 8. Our thoughts go out to her family, and to everyone who knew and loved her.
---
| | |
| --- | --- |
| | This soup's combination of carrot, ginger, and coconut milk is delicious and comforting. Fennel adds another light-sweet note, and the result is both exotic and familiar and perfectly complements the shrimp. Once the shrimp preparation is done, this soup comes together very quickly and easily; it's filling and substantial, great for cooler weather. |
---

Air time:
Wednesday, March 23, 2022 - 8:45am