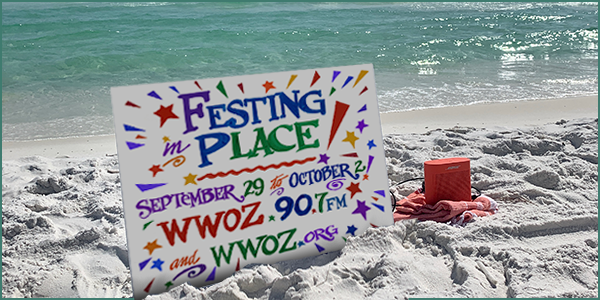 In the SEPTEMBER 2022 Issue of the 'OZone,
WWOZ's monthly newsletter:
Festing in Place, September 29-October 2 | Membership Drive Shout Outs | Live Now: Fall Second Line Season | Groove Gala Photo Gallery | Preservation Hall Foundation Legacy Celebration | Volunteer Profile: Bruce Gebhart | Recipe: Green Curry Shrimp | Quick Links
More 'OZ: Facebook | Twitter | Instagram | YouTube | Listen Live | Support 'OZ
---
| | |
| --- | --- |
| Fall Festing! | Tune in September 29-October 2 for a celebration of live music from New Orleans and beyond! Once again, we're partnering with the Archive of the New Orleans Jazz & Heritage Foundation to share the greatest music from Heaven & Earth: 60 performances recorded at locations all over the Crescent City and places like Telluride and Newport. So break out your festival gear, and get ready to celebrate the best of New Orleans music--anywhere in the world! |
---
| | |
| --- | --- |
| Help keep us on the air! | We'd like to thank everyone who helped make our Fall 2022 Membership Drive a huge success! Shout outs to all of our new & renewing members, show hosts, volunteers, staff, and of course our listeners, who comprise the world's greatest audience. And a standing ovation for our Membership team, who made it all happen. Cheers to all the guardians of the groove! |
---
YMO at Jazz Fest.
Photo by Michele Goldfarb

Fall second line season is underway! This Saturday afternoon, the Red Bull Street Kings brass band showcase and competition happens at Music Box Village. On Sunday, Young Men Olympians take to the streets of Uptown. Get your route sheet and more from Takin' It to the Streets, WWOZ's multi-platform program celebrating New Orleans' social aid & pleasure clubs, second lines, Black Masking Indians, Baby Dolls, and brass band traditions. While you're there, check out our list of 17(!) weekly Brass Band events.
---
Doreen Ketchens at the Groove Gala.
Photo by Charlie Steiner

Thanks so much to all who were a part of the WWOZ Groove Gala earlier this month. We didn't know what to expect after three years apart, but you all were amazing. What a beautiful gathering of OZillians, what a beautiful evening of music! Our volunteer photographers took lots of terrific photos, and our attendees sent us lots more. Check it all out in this gallery of 300+ photos.
---

---
Leroy Jones.
Photo by Demian Roberts

Preservation Hall Foundation Legacy Celebration, which happens Monday, October 3 at the Toulouse Theatre (formerly One Eyed Jacks), is a free community ceremony and concert honoring the contributions of treasured musicians passing on the traditions of New Orleans music and culture. The Preservation Hall Foundation Legacy Program was established in 2015 to help ensure that culture bearers are honored and their enduring contributions to New Orleans music, culture and traditions are celebrated and rewarded. Six outstanding musicians are being inducted into the Preservation Hall Foundation Legacy Program this fall: Craig Klein, Leroy Jones, Louis Ford, Mark Brooks, Shannon Powell, and Will Smith. RSVP required.
---
| | |
| --- | --- |
| Bruce Gebhart | When WWOZ upgraded the control room in our current French Market location, General Manager Beth Arroyo Utterback recruited Bruce Gebhart to make plaques out of the old wooden broadcast console, which dated from our days in Armstrong Park. Bruce, a retired geophysicist who has volunteered at WWOZ for nearly a decade, enjoys fixing and building things, and he embraced this project! He made the plaques in all sorts of different shapes to accommodate the console's unusual configuration. Show Hosts who remember the pre-Hurricane Katrina era of WWOZ were moved by this special keepsake. Newer hosts who only heard all the Treehouse Tales were also thrilled to own a piece of history thanks to Bruce's creativity and long hours with a saw and sander. Was there anything surprising about this project? Bruce says he was shocked to see the incredible number of sticky tabs from CD packaging under the console! He should have taken a picture, but everyone knows OZ Show hosts play a LOT of music. Thank you for loving WWOZ, Bruce! |
---
| | |
| --- | --- |
| Homemade green curry paste. | This is a Thai-style curry made with green curry paste, which you can make yourself (recipe below) or buy in store. The recipe calls for canned coconut milk, lots of fresh herbs, and your favorite kind of rice. |
---

Air time:
Wednesday, March 23, 2022 - 8:45am