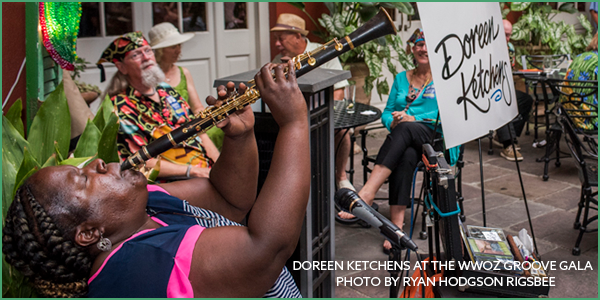 In the AUGUST 2022 Issue of the 'OZone,
WWOZ's monthly newsletter:
Get Your Groove Gala Tickets While They Last | "WWOZ Second Line," a Fine Art Print by J. Pierre | WWOZ Wins Press Club of N.O. Excellence in Journalism Awards | Photos: Satchmo SummerFest 2022 | WWOZ's Black Masking Indian Video Goes to Venice | Our Fall Membership Drive Happens September 8-16 | Volunteer Spotlight: T.R. Johnson | Recipe: Cajun Blackberry Dumplings | Quick Links
More 'OZ: Facebook | Twitter | Instagram | YouTube | Listen Live | Support 'OZ
---
Irma Thomas.
Photo by Michael White

Join us Thursday, September 1 for WWOZ's Groove Gala at Tableau Restaurant and Le Petit Theatre in the French Quarter. There'll be amazing food and a music lineup that includes Irma Thomas, John Boutte, Bruce "Sunpie" Barnes, Amanda Shaw, Doreen Ketchens, Meschiya Lake, and Al "Lil Fats" Jackson. It's not your average gala: it's an indoor festival, so leave your tuxes and gowns at home and come in your favorite festival attire! Tickets are limited so please reserve yours today.
---
| | |
| --- | --- |
| Detail from print. | "WWOZ Second Line," a fine art print by J. Pierre, is a vibrant celebration of music and life in New Orleans. It depicts a joyful second line winding through the the French Quarter and radiates life with its bold colors, dynamic themes and rich texture. Perfect for any Guardian of the Groove! You can see the original art work in person at the WWOZ Groove Gala, where it will be auctioned. Or, order a limited edition print, signed and numbered by the artist. Each print purchase helps support WWOZ. |
---
Jeffrey Lewis, YMO 2nd Line, Sept 2021.
Photo by MJ Mastrogiovanni

The Press Club of New Orleans' Excellence in Journalism Awards happened on July 30 and WWOZ had a stellar night, winning several top honors. Two awards were for social media (Best Use of Instagram, Best Use of Twitter) and two awards were for photography: Best Feature Photo and the Hal Ledet Still Photography Award, both for 'OZ photo volunteer M.J. Mastrogiovanni's Young Men Olympians photo (left). Our members make all this possible, so thanks to everyone out there who supports WWOZ!
---
Shannon Powell at Satchmo 2022.
Photo by Michele Goldfarb

Satchmo SummerFest was back in full force this summer with two robust days of performances and special events in honor of Louis Armstrong. WWOZ volunteer photographers Michele Goldfarb, Louis Crispino, and Demian Roberts were on hand to capture highlights.
---

---
| | |
| --- | --- |
| Still from virtual tour. | A WWOZ video of Black Masking Indians is showing at this year's Venice Biennale, among the world's most prestigious international art exhibits. "Resistance and Resilience" is a combination of three short films produced by WWOZ Video Director Charlie Steiner, and is part of a larger exhibit that showcases Mardi Gras Indians artistry and culture to the world. WWOZ is very proud that our video has been included in the Biennale, which receives over 500,000 visitors when it is held every other year. Click through for a video and a virtual tour of the exhibit. |
---
| | |
| --- | --- |
| | In order to keep the sweet grooves flowing around the world, WWOZ needs your support! Please join during our Guardians of the Groove Fall Membership Drive, which happens September 8-16. Turn on the device of your choice, tune in, and help us Guard the Groove. |
---
T.R. Johnson on the mic.
Photo by Marc PoKempner

T.R. Johnson, host of "Jazz from the French Market" on Tuesdays from 4-7pm, first became aware of WWOZ when he moved to New Orleans in 1999. He lived near the station back during the Armstrong Park days and began to substitute for show hosts from time-to-time. Eventually, he became the regular host for the early-morning, contemporary jazz slot on Thursdays. Four years later, in the summer of 2005, he switched to Tuesday evenings. T.R. says: "My greatest joy in serving as a show-host at WWOZ comes when I can play something truly great but largely unknown, either because it's brand new or because, over the passage of years, it has slipped off the radar of most jazz enthusiasts. I just love bringing everyone's attention to something magnificent that would otherwise not find a home in many people's ears." Thank you T.R., for all the years of exquisite music!
---
| | |
| --- | --- |
| Cajun Blackberry Dumplings | If you've got a ton of summer berries, this delicious recipe will help you use them up. On the other hand, since fresh blackberries are widely available year-round these days, it's not just a summertime dish. Just like King Cake, blackberry dumplings are great not only for dessert, but also breakfast or a snack. You can easily substitute out the blackberries for a mixture of berries. Serve with whipped cream or a scoop of vanilla ice cream. |
---

Air time:
Wednesday, March 23, 2022 - 8:45am